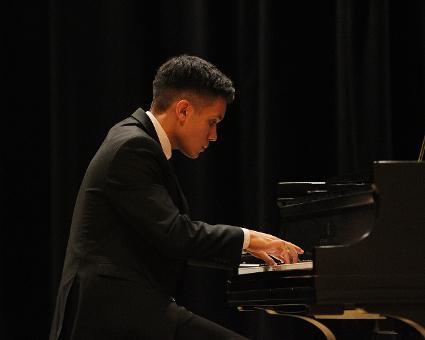 GREGORY VANDIKAS
Recently winning the highest competition award at the 2019 GOCAA International Piano Competition in Boston this past August, Gregory Vandikas was awarded a concert tour and CD recording contract in the upcoming season. This award came on the heels of winning the Grand Prize in the International Music Festival and Competition held in Toronto last May. He will be performing with the KSO Concert Series in the 2020-2021 season. He has represented Ontario at the CFMTA National Piano Competition in Winnipeg and won the 2nd place award at the OMFA Provincial Competition this year. He has also been awarded the 2019 Newmarket Arts Grant by the Newmarket Arts Council.
Gregory has performed in masterclass for such noted artists as John O'Conor, Shai Wosner, Benedetto Lupo, Suzanne Beaubien, Mari Kodama, Evelyne Brancart, William Aide, Paul Komen, Jamie Parker, and Curtis Institute professor, Meng Chien Liu. He won first in his age division in the 2017 Crescendo International Piano Competition, which led to a live performance at Carnegie Hall in New York City. He also did a live performance at the New Classical FM 96.3's noon hour a few months later. He has performed several solo concerts, one of which was under the sponsorship of the Steinway Piano Gallery Concert Series.
Under the guidance of Dr. Michael Esch, he has completed both his Licentiate and Associate Diploma for Piano Performance, receiving a First Class Honours with Distinction in both. Other major influences include George Vandikas, Sheila Vandikas, and Janice Lin. Gregory is also currently working on his level 8 cello with cellist, Hannah Jackson. A graduate of the Arts Unionville program at Unionville High School, he performed as a soloist, duo partner, and collaborative pianist as well as playing the saxophone, bassoon, and cello in the school ensembles.
He has attended the Peter de Grote Festival in the Netherlands, as well as the Domaine Forget International Festival and Orford Musique Summer Academy in Quebec. Awarded the Davis Scholarship and the Student Excellence Award, he will be studying under Prof. Kyoko Hashimoto at the Schulich School of Music, McGill University in Quebec for his Bachelor of Music Degree this fall.
© Copyright Gregory Vandikas